At Universal Engraving, we're always looking for ways to make your job easier. We've listened to your requests for online account visibility and the ability to pay invoices online. In response, we've rolled out the all-new MyAccount customer portal!
MyAccount gives you the ability to:
Access all of your past and current order information

Order date
Item(s) ordered and shipped
Sold to/ship to/bill to
Order status
Sales order acknowledgement

Track shipments
View statements
Pay invoices online
Best of all, it's quick and easy to learn and use.
Setting Up MyAccount
Setting up your MyAccount takes only a few minutes.
Use this link to access the MyAccount login screen. You can also access MyAccount anytime from the website header.
Click Request Account and fill out the needed information. We'll email you with a login and simple instructions to complete the setup process.
That's it! You can edit your profile by changing your email, password and security questions as you see fit.
MyAccount Features
MyAccount offers a variety of features that let you view and download documentation, check your AR balance, track shipments, pay your invoices online and more.
1. Access current and past orders
Trying to remember what you ordered in the past? Need to check your order status, or pull up Sales Acknowledgement documentation? The Select Order tab of MyAccount gives you these abilities and more.
You can look up a specific order by purchase order, part number, sales order or invoice number. You can also pull up orders within a specified date range.
Click into a specific order to see more detail. You can view and download the Sales Acknowledgement form for the order.
2. Track Shipments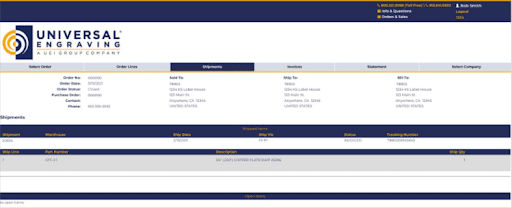 To look up the shipping status of an order, first open the desired order on the Select Order tab, then navigate to the Shipments tab. There you can see the estimated ship date of your order. If the order has shipped, you can track it via the provided link.
3. Download Invoices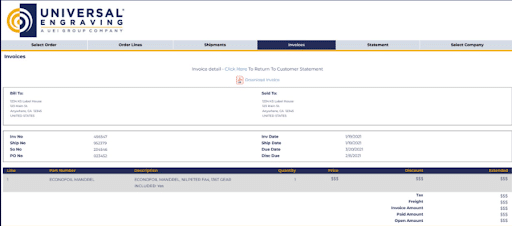 To view and download an invoice, first open the desired order on the Select Order tab. Then, in the Invoices tab, choose the invoice you want from the list. Click into it for more detail and a downloadable PDF.
4. View Your AR Balance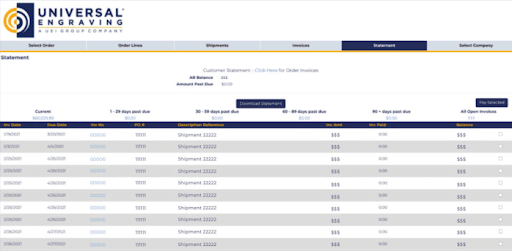 Never again wonder what you owe and when! The Statement tab shows your AR balance, amounts due, and due dates.
5. Pay Invoices Online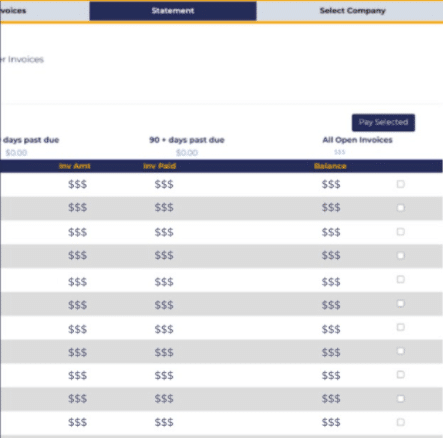 Our customers have asked us for a way to pay online, and MyAccount delivers!
In the Statement tab, simply select the invoice you want to pay by checking the box next to it. You can pay multiple invoices at one time by checking more than one box. Then, click the blue Pay Selected button. You'll be taken to a payment screen to complete the transaction.
Enjoy MyAccount!
Please contact us if you have any questions about MyAccount or would like assistance accessing any of the features. We want you to get the most out of this new account management tool!